Danny and the Dinosaur Go to Camp
Written by Syd Hoff
Reviewed by Trevor C. (age 8)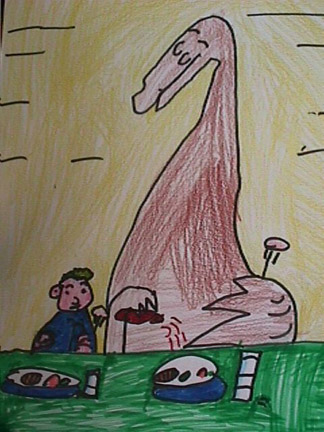 This book is about a boy named Danny and his friend the dinosaur. One day he takes the dinosaur from the zoo to camp for the summer.
My favorite part is when they are eating lunch and Danny asks the dinosaur to pass the ketchup. The dinosaur says he will when he finishes the bottle! After lunch they have to write letters and Danny writes a letter to his mom and asks for his own ketchup. The dinosaur writes that he wants his own pizza because he loves pizza.
Four people in my class gave this book four stars which means they really liked it. I have read the other Danny and the Dinosaur books too and I liked them. This is almost my favorite book.