Froggy Eats Out
Written by Jack London
Illustrated by Frank Remkiewicz
Reviewed by Skye S. (age 7)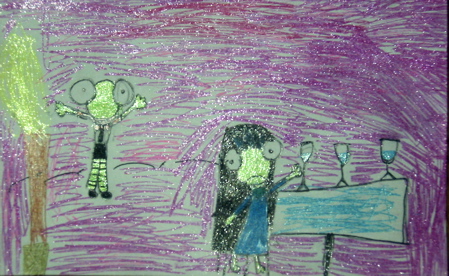 I love Froggy Eats Out because Froggy is so silly! He eats flies! When someone calls him, he goes ?Wha-a-a-at?? And he forgets so much. He wants to look nice for dinner. He has great parents. And sometimes he goes out in only his underwear! Froggy got embarrassed near his crush! Well he got embarrassed by putting pasta on his head and made a mess! Froggy is so sorry for messing up the dinner! I love Froggy!
I love the illustrations because Frank Remkiewicz makes lots of details. Also, he made Froggy so crazy! This book makes me think of Froggy Goes to School, and in Froggy Goes to School, Froggy goes to school in his underwear near his crush!!!!
I recommend this book for people that like funny books and also people that like frogs. You would enjoy this book because Frank Remkiewicz draws all of the pictures and details great so that you know how Froggy feels. Also, when Froggy walks his feet makes sounds like flop! flop! flop!