Diary of a Wombat
Written by Jackie French
Illustrated by Bruce Whatley
Reviewed by Nicholas d. (age 7)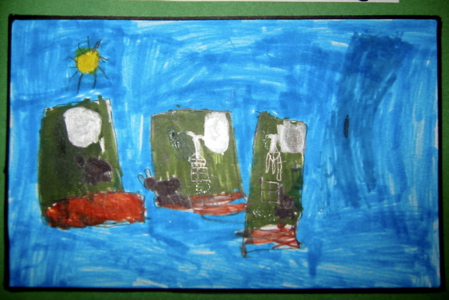 That is so annoying! Did you ever know someone really annoying? This wombat is! Diary of a Wombat takes place in Australia. It is a funny book because the main character, the wombat, would do anything to get attention. First, the wombat dug a great amount of holes next to his neighbor. He had to scratch himself a lot of times. Instead of trying to reach his body, he used a table, two chairs, and a ladder with a metal pot full of paint. The pot fell off the ladder! Will the wombat do something funny again? Find out in this exciting and funny book!
I like Diary of a Wombat because it is very funny. The wombat tried to beat this welcome mat and broke it. He thinks the welcome mat is a creature and it?s not! I like this book because it reminded me of lots and lots of Fluffy books like Fluffy?s Field Trip because Fluffy eats an apple from Ms. Day?s purse. Both Fluffy and the wombat are confuzzzzzz?ed! The constantly "thinking Fluffy" and the "wacky wombat" are both very silly animals.
I recommend this book for kids that like funny books, and for people that like books that sound like the main character is talking in the book. Find out what happens in the book!