Ghost Town at Sundown
Written by Mary Pope Osborne
Illustrated by Sal Murdocca
Reviewed by Matthew B. (age 7)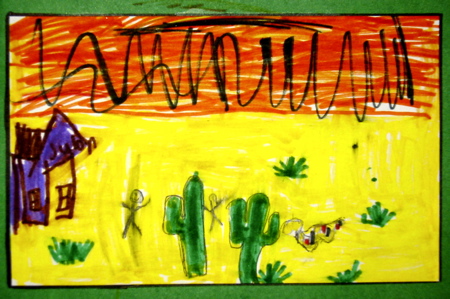 Annie and Jack like to solve mysteries. In Ghost Town at Sundown, they meet a cowboy and stay with him for a day or two. A man got killed a long tome ago and his ghost comes back to haunt the town. It?s a blast! You should read it! Because it has excitement in it! They see bad guys, and the bad guys steal horses. Find out what happened next in the Magic Tree House book, Ghost Town at Sundown.
I like it because it reminds me of The Secrets of Droon books when they solve the mysteries too. I think you will like this book if you read it because I liked it too. It has a lot of excitement in it! This book also reminds me of Dolphins at Daybreak from the Magic Tree house series. Annie and Jack are always solving mysteries. I hope you like Ghost Town at Sundown because I liked it too. When you read the book, tell me how you like it. So enjoy the book!
I recommend that you should read all of the Magic Tree House Series because they do a lot of stuff you would want to do, like go to the West. I wanted to go to the West and I got to see what it?s like!