A Ghost Named Wanda (Zack Files Series #2)
Written by Dan Greenburg
Illustrated by Jack E. Davis
Reviewed by Mariela P. (age 7)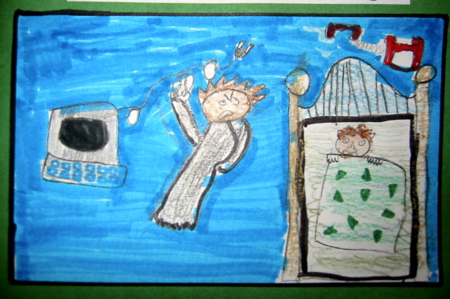 A kid, Zack, is adventurous and he is ten years old. Zack meets Wanda and Wanda is a ghost. Wanda is mean because he wants to play with Zack, but Wanda destroys his house because Wanda used to live there. And she didn?t like the house. And Wanda doesn?t have friends. And Zack tries to get the ghost to get away from his house. But Wanda does not want to leave his house. Will Wanda leave Zack?s house? Will Wanda leave Zack alone? Find out in A Ghost Named Wanda!!
I like Zack Files books because they are funny. I like the part when Zack said? "How come you chose this apartment to trash?? And Wanda said?"I USED TO LIVE HERE". And Wanda is just a little kid. Wanda messes all around Zack?s house.
I recommend this book for kids who like more words than pictures and that like mystery books too. I also recommend this book to kids that like long books too.