Never Trust a Cat Who Wears Earrings
Written by Dan Greenburg
Illustrated by Jack E. Davis
Reviewed by Lisa R. (age 8)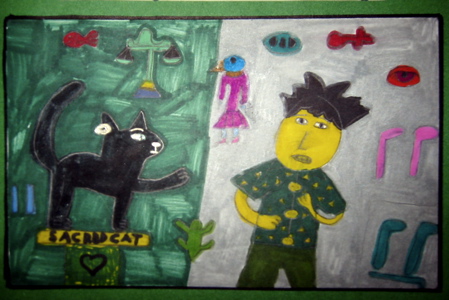 ?Hi! My name is Zack.? Zack got scratched by a cat at the Museum of Art. He saw a lady at the Museum of Art. She said, ?Oh, great goddess.? She has very long black hair and one green eye and a gray eye. Zack goes to school at Horace Hyde-White School for Boys. He?s in fifth grade. Zack is ten years old in my book, but in Anna?s book, Zack is ten and a half. My brother got scratched by a cat like Zack. Find out in this weird, funny, great book about when Zack gets scratched by a cat.
I like Zack Files because it?s funny and weird. My favorite part is ?Are you sick.? In my house, my brother got scared by a cat named Feo. My brother was crying like Zack. Zack is funny too because he sometimes doesn?t pay attention when Zack?s friend talks. Find out in this exciting book.
I recommend this book for kids that are 7 and up. You should like Zack because he is a pretty weird kid. When he got scratched by a cat, he turned into a cat. He doesn?t even tell anybody about it. You should really like Zack in any book of the Zack Files series because wherever he goes strange things happen to him. Find out more in My Son the Time Traveler.