Fluffy's 100th Day at School
Written by Kate McMullan
Illustrated by Mavis Smith
Reviewed by Hope B. (age 8)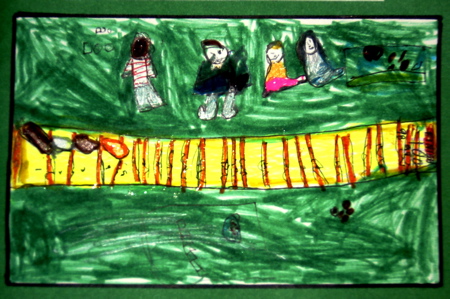 I hate this day! Fluffy thought. So far, Fluffy?s 100th day of school is horrible! The kids in Ms. Day?s class are having a guinea pig party. Every guinea pig at school is invited. At the guine pig party Fluffy?s playyard gets wrecked and the other guinea pigs break his coconut shell! Fluffy is very funny and he loves apples. He thinks he is tough, but he?s not! Fluffy has a race, but will he win? Fluffy is having a race with Duke, Lucky Sue, and Kiss, the other guinea pigs.
I like Fluffy?s 100th Day of School because it?s funny. My favorite part is when Fluffy said, ?I know what today is. Today is, Today!? because it is really really, funny! My other favorite part is when Fluffy ate 50 sunflower seeds and kept on burping! I like the illustrations because when Fluffy ate 50 sunflower seeds you can tell he feels sick.
I recommend this book for people that like funny books. This book is funny because Flufffy keeps on burping after he ate 50 sunflower seeds. Read this book!