Fluffy Meets the Dinosaurs
Written by Kate Mc Mullen
Illustrated by Mavis Smith
Reviewed by Evan D. (age 7)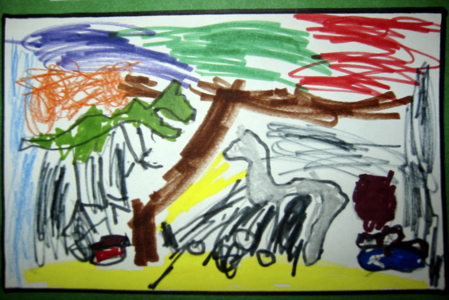 Two kids were playing with toy dinosaurs and Fluffy was scared of the toys because they were bigger than him. Kate McMullan wants us to learn more about dinosaurs to not be scared about things like dinosaurs. Wade had lunch. Wade saw Fluffy in his lunchbag. The tour guy found Fluffy in Wade?s bookbag and then they have a tour at the museum.
I like this book because it was funny when Fluffy thought the dinosaurs were real. My favorite part is when Fluffy says, ?Grandpa, I?d know you anywhere!? I liked Fluffy Meets the Dinosaurs because he can talk and he thinks a lot. He said to the kids, ?You?re messing up my playyard!? When he thinks, ?Grandpa I?d know you anywhere!? it was so funny, it almost knocked my head off! When the tour guide said, ?What a pretty little cavy, and then Fluffy thought, ?Hey, watch your mouth!?
I recommend Fluffy and the Dinosaurs to kids who like dinosaurs and kids that like Fluffy books and kids that like funny books.