Poppleton and Friends
Written by Cynthia Rylant
Illustrated by Mark Teague
Reviewed by Devain D. (age 7)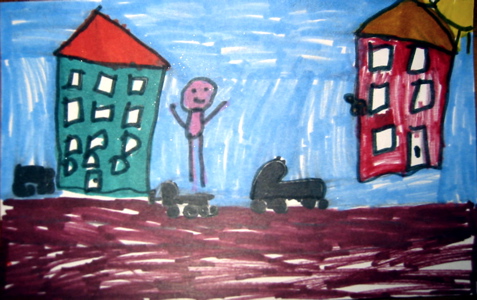 Poppleton is a pig who likes to dance in the city. He goes on a bus to the shore. On the bus, some girls taught him how to play cards and he sat next to a mouse named Hudson. In the next chapter, he has a lot of dry skin, and he eats some bad grapefruit. This book is very funny because in the first chapter, they make up their own dance and song. It is so funny because I like it when they make up songs. When they do that, it looks funny when they go to someone?s house and dance silly. The illustrations are funny because he eats grapefruit, and when he eats grapefruit, he feels like vomiting.
I like this book because at first Poppleton goes on the bus and some ladies teach him how to play cards and dance. It is funny because when Poppleton has dry skin he puts oil and honey on his skin but he doesn?t have dry skin! You will like this book. It is very funny because he doesn?t like grapefruit, but he still eats more and it is really funny. It is cool because they start to dance and they dance really funny. They went to the shore because Hudson?s favorite thing is the shore and he loves it. Poppleton and Hudson take a snack with them in case they are hungry. It makes me laugh because I like when people make up songs and dances. It reminds me of when I had made up my own songs and dances. My favorite picture was when Poppleton and Hudson went to the shore because they collect seashells and I like seashells. I even like this book because Poppleton learns from some old ladies how to play poker. It reminds me of when my grandma taught me how to play poker. The old ladies on the bus were a club.
I recommend Poppleton and Friends to people who like funny books and pig books because Poppleton is funny! It is funny because Poppleton makes up funny dances and funny songs. So, if you like this Poppleton book, read the others. You should like it because I liked it too. I hope you like this book. READ THIS BOOK!