The Kid Who Only Hit Homers
Written by Matt Christopher
Illustrated by Harvey Kidder
Reviewed by Alexander S. (age 7)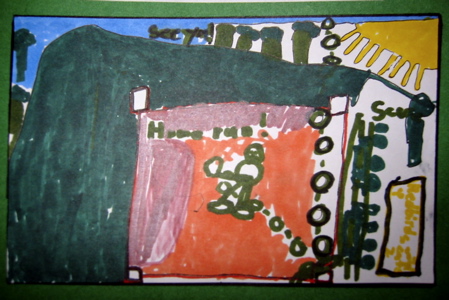 Sylvester loves baseball, but he just can?t hit the ball! He struck out every time at bat and never made a hit. Because he doesn?t keep his eye on the ball when he?s at bat and Sylvester also gets nervous when he?s at bat so he is going to be afraid to swing. So Sylvester will strike out. Sylvester also can?t field a ball. His eye is not on the ball. He cannot focus where the ball is going to land. Sylvester can?t track down the ball or it doesn?t fall into his pocket. Instead the ball goes on his tip of his glove and falls out. When baseball season is starting it is the last day for Sylvester to sign up for The Hooper Redbirds. Coach Corbin said to Sylvester, ?Are you going to sign up or not?? Sylvester keeps on thinking about that. He decides no because he can?t play so well. A guy said to Sylvester, ?Why did you lie to the guy?? Sylvester shrugged. He told Sylvester his name was George Baruth and put out his hand. Sylvester shook it. George Baruth said to Sylvester, ?I?ll have a practice after the Hooper Redbirds finish playing their practice.? The Redbirds finished their practice. Mr. Baruth helped Sylvester for another practice.
I liked Matt Christopher: The Kid Who Only Hits Homers because at first, Sylvester Coddmyer can?t hit the ball. When George Baruth helps Sylvester, he is hitting home runs every time at bat. After George Baruth helps Sylvester, Sylvester says to Coach Corbin, ?Can I sign up?? Coach Corbin said, ?No, because Friday was the last day.? ?You didn?t sign up?? After that day, Sylvester kept on asking Coach Corbin, ?Can I play on the Redbirds?? Then Coach Corbin let Sylvester play on the Redbirds. My favorite part is when Sylvester gets his trophy because Sylvester worked so hard with George Baruth and got better at baseball. I also like this book because I play baseball with my dad like Sylvester played with George Baruth. Sylvester had help with his hitting and fielding and so did I. Then I was hitting the ball almost every time at bat like Sylvester was.
I recommend Matt Christopher: The Kid Who Only Hit Homers to people who like sports like? baseball, basketball, and kickball because they are very similar in this book. I also recommend this book to people who like baseball and have a part in their life that when you first aren?t so good at a sport then someone helps you become the best one on your team. Or if you like all the Matt Christophers, you should play the sports that Matt Christopher writes about. I also recommend other baseball Matt Christopher books like, The Return of the Home Run Kid and The Lucky Baseball Bat.