Football Nightmare
Written by Matt Christopher
Reviewed by EM (age 9)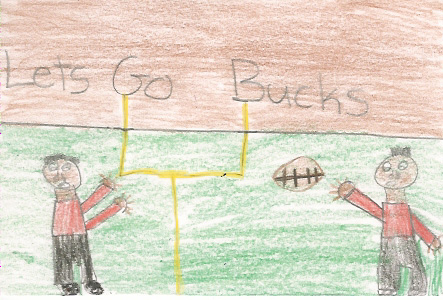 Football Nightmare is an astonishing book! In the beginning of the story, a bunch of kids joined a football team named the Bucks. The Bucks are a really good team. They were undefeated. So, they made it to the championship round. The championship round was heart breaking for the Bucks because Keith, one of the wide receivers, dropped the winning touchdown pass. Then Keith got very mad because he dropped the pass and caused the Bucks to lose the championship. Keith's team tries to cheer him up, and it works. After a while, Keith joins the team again. Will the Bucks ever have an undefeated season?
I really enjoyed reading this book. I enjoyed this book because it is interesting. It is interesting because everybody wants to see if Keith would join the team again. There is another reason why it is interesting. The fans wanted to see if the Bucks would be undefeated. The book was also serious. It was serious because they wanted to win a lot of games. And they did! It was also serious because they wanted to win the trophy. The last reason why I enjoyed reading this book is because it is very tricky. Keith's team tricked him to come back. Keith's team also tricked Larry to get him in trouble. I like books that are suspenseful like this one!
Heck is a very interesting character in this book! Heck is a good character because he is funny. He plays a lot of jokes. The other reason is he puts on a lot of acts. Heck is really intelligent. The reason why he is smart is because he knows how to get people to build confidence in themselves. He also knows what to do with the football when it is in his hand. Heck is a really tricky guy. He is tricky because he tricks people to do stuff he wants to do. The other reason is he gets people to do not so good stuff. Heck is funny, tricky, and he is intelligent.
I recommend this book to kids who really like sports. Be prepared to get out of your seat. You will be astonished of how spectacular the Bucks are. Now go out and start reading this book.