Because of Winn-Dixie
Written by Kate DiCamillo
Reviewed by Amber S. (age 11) & Shannon R. (age 11)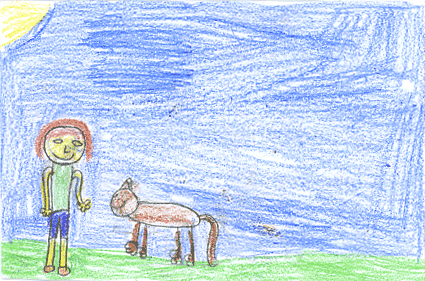 Have you ever seen a dog smile? If not, then Because of Winn-Dixie is a book for you. This is a story about a young girl, named India Opal, who finds a friendly, scraggy dog. She names him Winn-Dixie. Some of the people that India Opal meets in the story are Gloria Dump, Miss Franny, Otis and Mrs. Dewberry. Together they go many places, meet many people and have many great adventures. To find out how a party almost becomes a disaster, read the book Because of Winn-Dixie.
We liked how the dog acted. Winn-Dixie acted cheerful and he could smile. We liked it when India Opal and Winn-Dixie met at the grocery store because it was funny. This book is special because it was about good friendships. We felt excited when the dog and Opal became friends.
We recommend this book to anyone who likes to read stories about friendship. It is for 3rd graders and up. It is a good dog story.