Full Tilt
Written by Neal Shusterman
Reviewed by Alicia G. (age 10)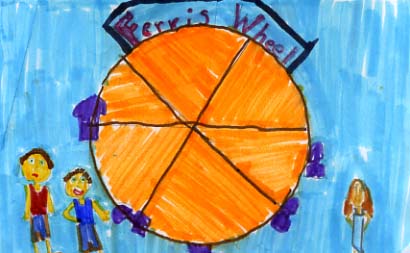 Strap your self in for the ride of your life! Blake is a 16 year old boy who chases his 13 year old brother, Quinn, into a phantom carnival ride. This ride traps the souls of the riders who have died there. In order to escape this death trap, Blake must survive 7 deadly rides before dawn. Besides the fact that he is terrified of roller coasters, he has to think about the safety of his best friends and brother. Will Blake survive the Kamikaze airplanes? Will he turn into his disfigured reflection in the Haunted Hall of Mirrors? Or will he be forever trapped as an ancient Egyptian slave on the Ancient Mummy ride? To find out, you will have to read Full Tilt.
The main character, Blake, reminds me of myself because he takes leadership when the situation demands it. Blake is interesting because of his past. He was the only survivor of a mysterious school bus accident. Blake is the character who changes the most because he goes from a quiet and shy brainiac to the hero of this book. This book is unique because it has suspense on every page.
I recommend this book the thrill seekers of all kings. Anyone from the age of 10 to 100 would enjoy this book.