Owl Moon
Written by Jane Yolen
Illustrated by John Schoenherr
Reviewed by Julia T (age 7)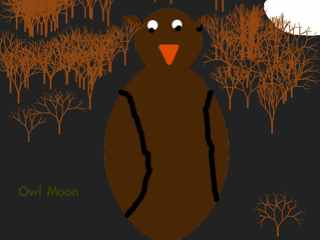 In Owl Moon, a little girl goes owling for the first time on a cold winter night with her father. Owling is when you try to find an owl late at night. She is happy to go owling with her father because she has been waiting to do it for a long time. It's a very special thing to do and it's even more special when you find one. She observes a lot about nature.
My favorite part of the book was when they find the owl after a long, hard search. That was my favorite part because they accomplished what they had been working toward. I really liked how the author described the night. When she used her words, I felt like I was with the characters on their adventure.
I would recommend the book to all kids because it gives you a good image of what to expect when you go owling.