The Boxcar Children - Mystery on Stage
Written by Gertrude Chandler Warner
Illustrated by Charles Tang
Reviewed by Carley V. (age 9)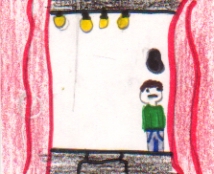 Jessie was taking a walking on a fall day. She saw a poster for auditions for the play, "The Wizard of Oz". When she was looking at the poster, she met a girl named Sara. Jessie wanted to try out for the part of Dorothy and so did Sara. On Saturday, Jessie and Sara both went to the auditions. After Sara auditioned she sat down next to Jessie and watched some auditions. She kept glancing at her watch. Jessie didn't know why she kept looking at her watch. Jessie was determined to find out. On the second practice, Sara was late. When Sara got there she made up an excuse that she lost her script. She said that she was looking for it all morning. Benny is Jessie's little brother. Benny didn't think that she lost her script. After all the auditions were over, Jessie got the part of the cowardly lion. Melody got the part of the Scarecrow. Sara got the part of Dorothy. Harold got the part of the Tinman. Melody was really mad that she didn't get the part of Dorothy. Harold loved his Tinman costume. He never took it off--not even to eat.
Read the book to find out if Harold will take off his Tinman costume and if Melody will play the Scarecrow.
My favorite part was when Sara found out that her Dad was damaging the set. One time her dad loosened a bolt in a light and it almost hit a guy named Richard.
The character I found interesting was Melody because she always complained about stuff. When she found out she got the part of the Scarecrow she was trying on dresses instead of her costume.
The character, Jessie, reminded me of my friend Lindsey because she always wants to try out for something new.
This book was fun to read. I felt like a detective. Before I continued reading, I always guessed what was going to happen next.
I recommend this book for third grade and above. It is a more challenging book. I think people who like solving mysteries would like this book. I think this story might interest readers because the book has good pictures. I think the book has really good characters too.