Tuck Everlasting
Written by Natalie Babbitt
Reviewed by Samantha W. (age 9)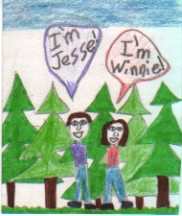 One day Winnie Foster was in her yard. She had to stay close to her family. Winnie wanted some adventure. She decided to run away. She ran into the forest. She saw a boy named Jesse drinking water. The boy would not let her drink. Jesse's brother and mother came. They took her to their house to explain about the spring. She wanted to know all about the spring and why she couldn't drink from it. They told her that anyone who drank from it would never die. A man overheard this. He wanted the spring so he could sell the special water. Winnie had to make a decision of whether or not to help the Tucks' keep a secret about the water. Read this book to find out what happens to Winnie, the Tucks and to the man who wanted to sell the water.
It was cool when Winnie ran away because she met Jesse Tuck and his family. The Tucks were very nice to Winnie.
My favorite part is when Winnie is at the Tuck family's house. They are very strange people and do a lot of strange things. Winnie grew to love them. She had lots fun there. I found the Tucks very interesting. They have a secret and would only tell Winnie about it. They don't want everyone to find out about it.
I felt sad when Winnie had to go home because she wanted to save Mae from the gallows. I was happy when Jesse came and got Winnie to help save Mae.
I recommend this book for 4th grade and above. It can be confusing, but it is worth taking the time to read.