Fish is Fish
Written by Leo Lionni
Illustrated by Leo Lionni
Reviewed by Monique M. (age 8)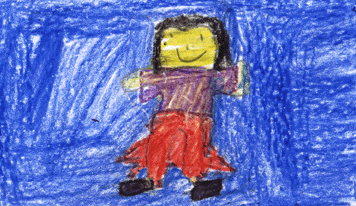 Our story takes place in a pond. A tadpole and a fish are friends. The fish got upset at the tadpole because the tadpole grew legs. The tadpole announced "Look, I am a frog!" The fish said "How could you be a frog if only last night you were a little fish, just like me!" The frog went out to see the world. When he came back he told the fish many wonderful things about the world. The fish thought and thought about all these things. The fish decided to jump onto the grass. The fish thought he was going to die because he couldn't breathe. His frog friend pushed him back into the pond.
I like the illustrations in this book. The colors are very pretty and cheerful. They make you think differently about fishes and tadpoles.
My favorite part of the book was when the fish felt lonely because he felt bad for himself when he got mad at the frog.
I recommend this book to other kids because the story teaches you about friendship.