Castaways of the Flying Dutchman
Written by Brian Jacques
Illustrated by Ian Schoenherr
Reviewed by Elizabeth B. (age 11)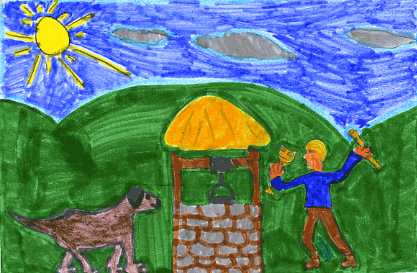 Immortal Ben and his faithful dog, Ned travel the globe, searching for people to help. During their travels, they discover the sleepy little village of Chapelvale...that's about to be turned into a cement factory! Can Ben and some friends save the village before their time runs out? Or will they be too late?
I think this is a wonderful book because it's so highly descriptive and has such amazing details that I can practically see it. My favorite character is Ned, a friendly dog that can communicate telepathically. He's funny, and I find it interesting to see what he's going to say next. I find this a great book because it's packed with suspense. It leaves you on the edge of your seat wondering "Will they solve the riddles? Will they save the village?" Castaways of the Flying Dutchman is my favorite book because of the realistic way it's told, and the friendship, help, and unity the characters show each other.
I recommend this book for anyone who likes riddles, suspense and adventure. I'd also recommend other books by Brian Jacques. P.S. This is my favorite book!