The River
Written by Gary Paulsen
Reviewed by Joe S. (age 12)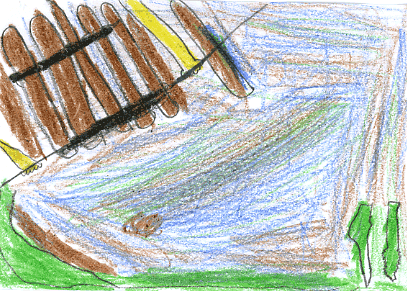 Brian Robinson is back in the wilderness with Derek Holtzer, a psychologist who works for the government. The government wants to see how Brian survived in the wilderness for those fateful 54 days. Those survival tips will help astronauts and the military improve their survival techniques. But when there is a thunderstorm Derek gets hit by lightning and falls into a coma. The only hope Brian has to save Derek's life is to transport him down a river 100 miles to a trading post. Will Brian make it to the trading post in time to save Derek's life?
I liked the book because it had adventure. It had some suspenseful moments where I couldn't put the book down. My favorite part is when Brian starts to build the raft. He has to get the wood and somehow tie them together. This book is like Hatchet, which comes before The River. Brian has to survive in the wilderness. I think Brian is cool because of his survival techniques and the close calls he runs into like when Brian goes down the waterfall.
I recommend this book because it has excitement and suspense. I think people in 5th grade and older would like this book if they have already read Hatchet. I think readers would like this book because it is realistic fiction and it really could happen.