Matilda
Written by Roald Dahl
Reviewed by Ariana V. (age 10)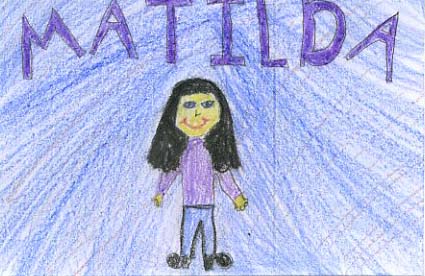 "Put that book down and watch some good TV with the rest of us!" This is a story about a smart girl who raised herself from a small baby. Most families have responsible parents that care for their children. Poor Matilda belongs to a family that only cares about TV. Unlike her family, Matilda likes school and reading books. Her parents disapprove! Once Matilda starts school, she finds out that she has a special power. Read this book to discover how Matilda gets revenge on her mean parents and her evil principal.
I admire this book because it is packed with suspense and humor. Matilda is very funny and I like how the author made her characters. My favorite part is when Matilda gets revenge on her principal. The unique part about this book is that Matilda has a special power that helps her get revenge on the people that make her mad. This book made me feel excited. It made me think of all the funny things that happen in my life!
I recommend this book for ages 7 to 100. This is a book that is fun for everyone to read. If you like suspense humor and revenge, this is a book you don't want to miss!