Artemis Fowl - The Eternity Code
Written by Eoin Colfer
Reviewed by Kevin S. (age 11)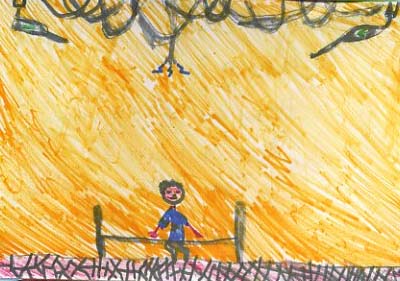 "Artemis is a hunting god and I have hunted you." These were a few of the words that the teenage boy genius spoke. Artemis uses stolen L.E.P. technology to build an amazing device called the C cube. Everything goes wrong when it is rubbed by John Spiro. Butler has a fatal accident and is not of much help. Can Artemis and the L.E.P. win this funny battle of brains and brawn? Can they pull it off one more time?
I think this is an exciting and well written book because it creates a vivid picture in my mind's eye. It is like Harry Potter because there is a lot of suspense. I found Root interesting because his attitude changes a lot. He could be happy one second and then steaming the next. Artemis changed because he became more kind and passionate. He also became less greedy and thought more of others than himself.
I recommend this book to Harry Potter fans and to people that like tons of action and suspense. There are also funny things that will surely make you laugh. It is good for people of all ages.