A Series of Unfortunate Events: The Bad Beginning
Written by Lemony Snicket
Reviewed by Marissa L. (age 10)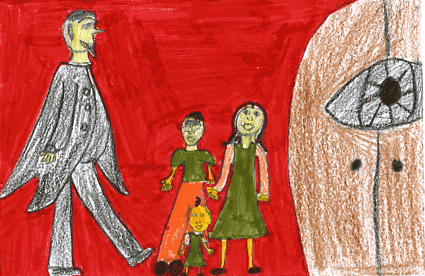 Have you ever wished you never met a new relative? This story is about three young children named Violet, Klaus and Sunny Baudelaire. Their parents died in a fire and left them a ton of money. But when they meet a new relative, Count Olaf, they try to escape because he wants their fortune. This new relative will not leave them alone! Will Sunny, Klaus and Violet ever make it past this relative and save their fortune?
I loved the book The Bad Beginning. It's a great book because it has parts that really grab your attention. I thought this book was great because it always had suspense and always made you wonder what was going to happen next. My favorite part was when the three Baudelaire children told everyone at the play what Count Olaf was up to. I thought Violet was interesting because she always had an experiment to do. All three Baudelaire children feel like something is missing because their parents died in a fire.
I recommend the book The Bad Beginning for boys and girls that like suspense and mystery. This book is best for readers in 3rd grade and older.