Nightmare Room
Written by R. L.. Stine
Reviewed by Andrew B. (age 11)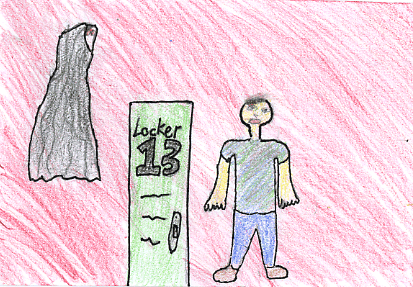 Imagine being the most superstitious kid in your grade. Now imagine being stuck with locker number 13 for the whole school year. Luke has had nothing but bad luck in 7th grade. But one day before basketball practice he finds a small rubber skull and puts it in his pocket. He discovers that the skull is a good luck charm and keeps it with him every day. But all this good luck is about to change. What price must Luke pay for his stroke of excellent fortune?
I think this book was great because it was suspenseful and descriptive. I was terrified when Luke came to meet the evil villain that would control his fate. I felt relieved when Luke broke the evil one's grip on his future. I couldn't stop turning the pages because the writer's elaboration urged me to read on. The main character, Luke, changed in this book. He went from being depressed because he thought he was unlucky to being happy he was safe and not in great danger.
I recommend this book to people who like suspense. I think this book is appropriate for readers ages 10 and up. I think Luke, the main character, is a good example of showing that hard work pays off.