The Carnivorous Carnival
Written by Lemony Snicket
Illustrated by Brett Helqvist
Reviewed by Cherish C. (age 11)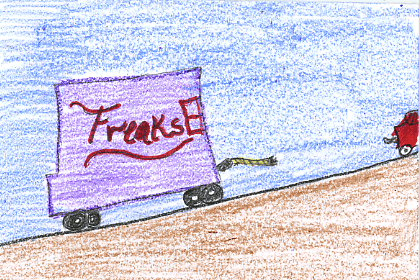 Imagine hiding in the trunk of a greedy thief's car. You end up at a horrible carnival owned by a mysterious fortune teller. The Baudelaire children go on an adventure with lions, freaks, and hot chocolate. Read the book to see what Violet, Klaus and Sunny do to get away from the thief Count Olaf and his girlfriend Esm Squalor.
I loved how this book is very suspenseful, nail-biting, and puts you on the edge of your seat. It was nail-biting because the children are always doing something different to erase Olaf's plan. My favorite part is when Count Olaf is scared to push the freaks into the lion pit. It is very suspenseful how the Baudelaire's try to distract his troops and escape. This book is part of a series. It is similar to the other books because they all leave you with a cliff hanger. This makes you want to read more. As I read the book I felt excited and a bit anxious of what Olaf and Esm will do next.
I definitely recommend this book to kids that enjoy crazy and extremely suspenseful stories. I recommend this book for 4th, 5th, and 6th graders.