City of Ember
Written by Jeanne DuPrau
Reviewed by Ben J. (age 11)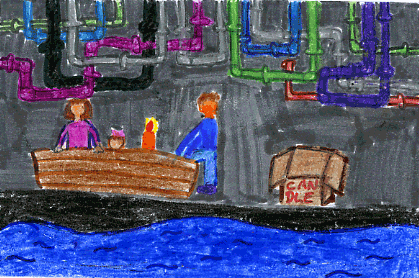 "We have to get out of here!" says Lina Mayfleet and Doon Harrow.
Their city is filled with darkness and their only light comes from the street lights. But now, even the street lights are flickering. Only with a few directions, they try to escape the City of Ember. Imagine that you are in the City of Ember. What would you do if the only lights are flickering, the supplies are low and the mayor is greedy as a pig?
In this book, my favorite part was when Lina and her friend Clary were decorating with the instructions that Lina found in a box. Parts of the letters were missing so it made my brain work to solve it. When I got this book from a friend, the illustration on the cover grabbed me at first sight. The light bulb that was alone in the middle of darkness was mysterious, yet simple. I loved this book because it was full of adventures and mysteries, which I like. I thought this was the most exhilarating book I have ever read. A character whom I found to be interesting was Doon. He got the best job, messenger, and wants to trade with the worst job, working in the pipe works. I thought he was a unique person who cared about the city.
I recommend this book to those who love adventures and problem solving. I guarantee that this book will be one of the best books they've ever read.