Sakura and the New Boy
Written by Kimberly Weinberger
Illustrated by Kimberly Weinberger
Reviewed by Omar. C (age 8)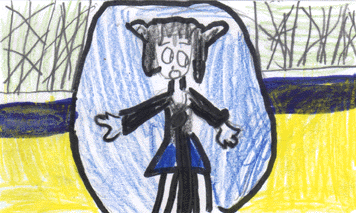 The story is about a girl who gets Clow Cards. When she opened a book she set the cards free. The cards used their magic powers to destroy the world. When the girl heard a noise she knew it came from the Clow Cards. One day Sakura heard a noise, she thought it was the Clow Card. "It's the Thunder Card." said Sakura. She heard another noise across the street. "It's the Shadow Card." said Kero. Sakura and her friend Li were card captors. Would they be able to capture all the Clow Cards? Find out what happened next.
This book was different from other books I have read. It talked about magic. The characters had many exciting adventures.
My favorite part of the story was when Li was fighting with Sakura. This was because Li thought Sakura had the thunder card.
I recommend this book to other kids because the story was exciting to read. There are a lot of cool pictures.