Show Me the Bunny
Written by Steven Banks
Illustrated by C. H. Greenblatt
Reviewed by Andrew B. (age 8)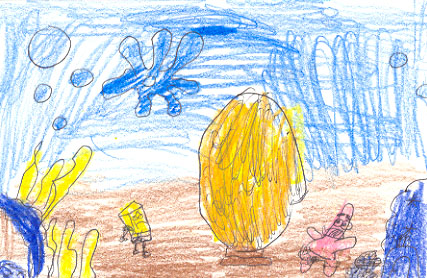 One day, SpongeBob knocked on Patrick's door and told him that it was Easter. Then, they started to hide eggs all over the place. Patrick didn't have any eggs, so SpongeBob gave him some of his eggs. Patrick thought it was Christmas. He found a large Easter basket and it had a big egg in it. The egg started to crack and out came a big fish! They were both suprised!
My favorite part of the story is when the big Easter egg cracks at the end of the story because it was suprising. My favorite character is Patrick because he didn't find any eggs. This story does not relate to my life too much since I don't live in the sea, but I really liked the book. The story has pictures and they help to tell the story a lot because they are funny.
I think that others should read the book because it has colorful pictures and it is a funny book.