Ancient Egypt
Written by George Hart
Illustrated by Peter Hayman
Reviewed by Andy K. (age 11)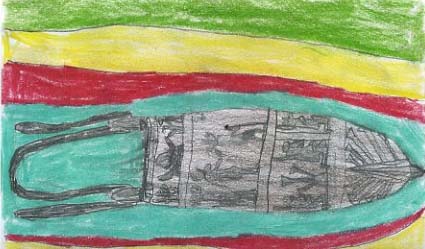 Did you ever wonder about the civilization that made mummies and flourished for more than 3000 years? Well then the book Ancient Egypt will be just for you!
This amazing book describes the glorious wonders of Ancient Egypt. From mummies to pyramids from jewelry to daily life this book describes anything and everything about Ancient Egypt.
I thought that the book was one of the best I've ever read. The author's description of the artifacts inspired me to start my own artifact collection. I liked the Daily Life section because the author made me realize how amazing it was to live in ancient times. The illustrations are beautiful works of art from 3000 years ago. The photographs in the book are pictures of actual artifacts. When I read the book I felt like I was going back into Ancient Egypt. I found myself wondering how the Egyptians could've made all of the artifacts with such primitive, ancient technology.
I would recommend this book to anyone interested even a little bit in ancient people. I would recommend this book for children ages six through twelve years of age.