The Voyage of Patience Goodspeed
Written by Heather Vogel Frederick
Reviewed by Cody D. (age 11)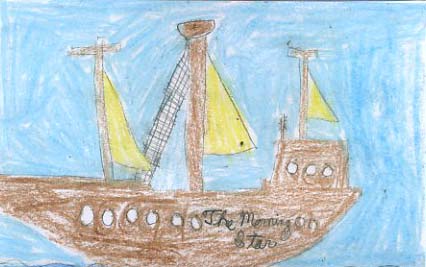 "But Papa, I don't want to go. I want to stay here so I can go to school with Miss Mitchell!", Patience pleaded. "NO!" her father replied. "You're coming with me and your little brother, Thaddeus, aboard The Morning Star" Ever since Papa got home from sea, he's been saying this. Patience Goodspeed goes on a little adventure on her father's whaling boat. She will become a crew member and learn the ways of the waves. Two thugs named Binyon and Todd come along as crew members as well. The Goodspeed kids saw these two fellows at a bar, and just nearly escaped after Thaddeus bumped into one of them. Life is rough on this ship. Fights break out three times a week and Patience can't go on deck because she might "interfere." When the ship goes around Cape Horn, huge swells crash the ship and a loyal crew member gets hurt. Something surprising happens after this, so set sail and read this book.
The Voyage of Patience Goodspeed is a book filled with action, adventure and surprises that you don't see coming from a page away. I really enjoyed this book. It has a good base storyline, appealing suspense and a voyage that sends you off your feet. It was terrific from beginning to end. My favorite part in The Voyage of Patience Goodspeed was at the end when something you don't expect or even think about comes around the corner and hits you straight on the head. When I was reading this book, a few things made me think. At the very beginning, I wondered if Papa was going to let Patience stay home with Martha, the maid, and take Miss Mitchell's classes or make her come with him on The Morning Star. Since they were at sea for over two years, I wondered if someone was going to get hurt or killed. I also thought that one specific character, Patience, was very unique. She is a great person and has a wonderful attitude. She only fights with her brother or with someone making fun of someone she cares about, like Thaddeus. Papa had lessons with her on navigating while they were at sea, trying to make up for her not going to Miss Mitchell's school. This allows her to be very ship-worthy. That means she is a great sailor and knows the ways of the ocean. As Papa would always say, "The Goodspeeds are a great whaling family." Patience was incredibly smart and does something extraordinary at the end to prove it.
I recommend The Voyage of Patience Goodspeed because it is a great book with adventurous, energetic and suspenseful action. If you like the story of a girl that changes the way she'll live for the rest of her life and saves other people's lives as well, then you should definitely sail through the pages of this book.