What's Under My Bed?
Written by James Stevenson
Illustrated by James Stevenson
Reviewed by Jessica M. (age 0)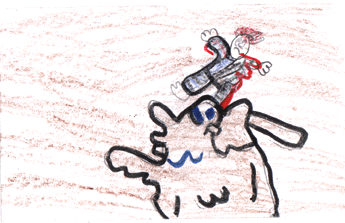 This story is about two kids and their grandparents. MaryAnn thinks there is something under her bed so she told her brother to look under the bed. When he put his foot out he stepped on his dog Leonard. They both ran downstairs to their Grandpa. Grandpa told them a scary story. Something happened to him when he was their age. He got scared.
There are many lessons to be learned from this book. I learned how to be brave. I learned how families spend time together. I also learned about how to love my grandparents because they can protect me when I am scared.
My favorite part of the book was when MaryAnn thought there was something under her bed. It reminded me of one time when I thought there was a monster under my bed.
I recommend this book because it was fun to read. It has a lot of fun parts. The pictures are also funny.