Friends In Need
Written by Justine Korman
Illustrated by John Kurtz
Reviewed by Russell C. (age 7)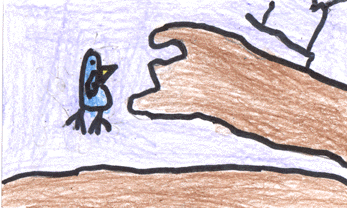 A bird was in trouble. A lion roared and the hyenas ran. The little bird introduced himself to the lion. The bird was Zazu. The lion was the future king. The bird wanted to help the lion. He followed the lion day and night. When the lion was walking he thought he had a second shadow. The little bird was ruining the lion's hunt. The lion had a girlfriend. Her name was Sarabi. When the lion was sleeping Zazu flew over the lion. He saw Sarabi in a deep hole. Zazu flew back and woke up the lion. The lion looked down, but he didn't know what to do. Then Zazu said "Cut down this tree!" Then something happened.
This book has something special because it teaches a very important lesson. It shows me that you don't have to be big to be helpful. It shows that little kids could be helpful to grown ups.
My favorite part was when Zazu was following the lion.
I recommend this book because it is full of exciting adventure. You never know what could happen when you take a walk in the jungle.