Scooby Doo And The Race Car Monster
Written by Gayle Herman
Illustrated by Duendes del Ser
Reviewed by Ian M. (age 7)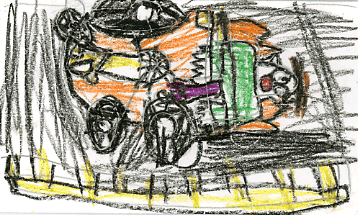 The gang went to a race way. Scooby and Shaggy saw a race car monster. An engine backfired and Shaggy and Scooby jumped onto a speeding car. The monster roared! Shaggy and Scooby dropped back into their seats. The gang went to the parking lot to investigate. They were chased by monsters onto the race track. The gang found out the monsters were really monster trucks. The gang won the race.
My favorite part of the story is when Shaggy and Scooby fall onto a speeding car because it it silly. My favorite character is Scooby Doo because he talks funny. My least favorite character is Velma because she says, "Jinkies". This relates to my life because the story is funny and I'm funny too. This book has pictures and they help tell the story.
I think others should read this book because it is exciting. The pictures really help you understand the story.