The Phantom Tollbooth
Written by Norton Juster
Reviewed by Sammy R (age 10)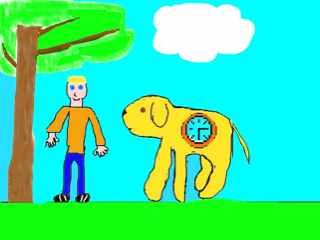 The Phantom Tollbooth is about a boy named Milo who thinks everything is boring until he goes into the tollbooth. When he goes in, Milo meets the Watchdog Tock, Humbug and many more people. When he gets thrown into prison, Milo learns of Rhyme and Reason, two princesses who were banished by King Azaz the unabridged and Mathemagician. Milo succeeds in getting permission from the King for rescuing them but can he get permission from Mathemagician? Can he save the two princesses? Read The Phantom Tollbooth to find out.
I think The Phantom Tollbooth is an exciting adventure; it has some very interesting characters. I liked it a lot because it is adventurous story. The meaning of the story is not to think life is boring or you won't have friends or fun. My favorite part is when Milo, Tock, and Humbug are running away from the monsters that live in the mountains of Ignorance. It is my favorite part because the story describes all the monsters and there is suspense. The characters that I found interesting are Milo, Tock, Humbug, and Mathemagician.
In the book my sister's day is like Milo's life because in the book Milo starts out bored and boring and my sister starts the day bored and boring and for the rest of the day is happy and fun.
I recommend this book because I liked it and it may be good for kids who need a motivation through life. Something in the book that interested me is the play-on-words. So read The Phantom Tollbooth.