The Phantom Tollbooth
Written by Norton Juster
Reviewed by Kaitlyn H (age 9)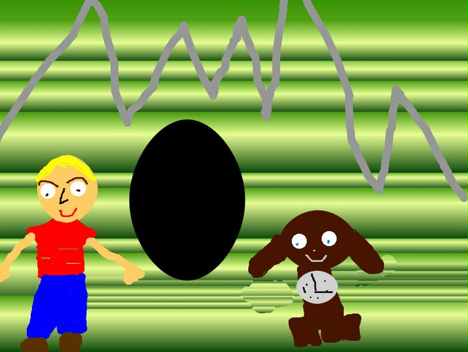 In the book, "The Phantom Tollbooth", a boy named Milo (who has nothing to do) finds a tollbooth in his room and happens to walk through it because he's bored. When he first gets there, he meets King Azaz who is the ruler of Dictionopolis. He also meets Mathemagician who is the ruler of Digitopolis. Also, he meets the Humbug and Tock the watch dog. They help him go on his adventure to rescue Rhyme and Reason, the princesses. They were banished to the Castle in the Air. Will he rescue the princesses? Read the book to find out.
One lesson to be learned from this book is to be happy with your own life, and show respect for what you have. That is an important lesson.
I thought this book was only okay, because I didn't understand the "play on words" and that made it kind of hard to follow for me. At some parts, it was a little slow. For example, at the "Royal Banquet" it just was talking about how much better Dictionopolis was than Digitopolis.
Kids who like to mess around with words might like to read this book because there is a lot of messing around, a lot of "play on words", messing around with words, and it is funny. Especially since Tokc has a watch on him and it goes off constantly. Though I'm not one of those kids who would like this book because I didn't like it.