The Phantom Tollbooth
Written by Norton Juster
Reviewed by Kevin W (age 10)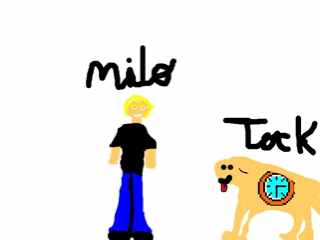 This is a story about a little boy name Milo who thought there was nothing to do. Suddenly he recieved a package and inside was a magical tollbooth that led into a completely different world. Inside the world it was not civilized and the whole world was in chaos. The little boy, Milo, had to rescue two princesses named Rhyme and Reason from the Castle in the Air, but he had to get through tons of demons.
Milo discovers a lot of funny creatures along the way, including the main creature Tock. He's a watchdog with a clock on him! There is the wordsnatcher who takes whatever you say and changes it to something else. There is the spelling bee who can spell every word in the dictionary. And then there is the Humbug, a pessimistic bug.
This is a book with so many plays-on- words you would not believe it! You've probably heard of a witch, but not a which, someone who decides which sayings the king should use. You've probably heard of "You're going to eat your words" but have you literally eaten your words for dinner? Milo had to when he said he wanted a square meal and a light meal, he got a meal of squares and a meal of the word "light"!
I loved how many puns and word puzzles there were in this book. Milo really changed at the end of the book by being imaginative and not bored. There was a moral which was your life isn't always so boring, just look around and see what is there. The book was mostly wacky adventure!
I would recommend this book to people that like humor, adventure, just plain fun books, and to people that enjoy words.