Flat Stanley
Written by Jeff Brown
Illustrated by Steve Bjorkman
Reviewed by Brandon H. (age 8)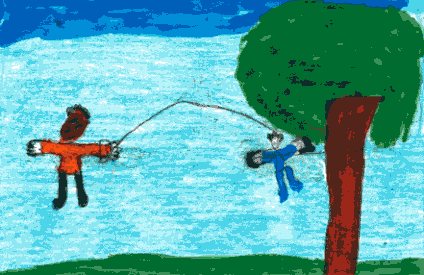 A bulletin board fell on Stanley and then he was flat. His brother Arthur was jealous because Stanley could slide under doors. Arthur flew him like a kite and got him stuck up in a tree. That got Stanley mad. In a museum, sneak thieves snuck in and Stanley shouted and caught them. After that Stanley got an award. His brother blew him up with a bike pump so he was like a regular person.
I felt excited about the first time I was going to read this book. I thought about what the book would be about. I wondered about a flat kid. This story reminds me of my brother because he?s jealous of me. I got a game and he didn?t. Arthur was jealous of Stanley because he was flat and could go under doors and Arthur couldn?t. My favorite part is when Stanley got aired up from the bike pump. I like this part because his face is all puffed up.
I recommend Flat Stanley because it?s a really fine book and kids like Flat Stanley. I think 7 to 10 years could read this book would like this book.