Flat Stanley
Written by Jeff Brown
Illustrated by Steve Bjorkman
Reviewed by Syann G. (age 6)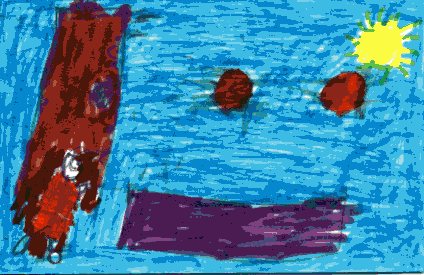 A bulletin board fell on Stanley and he got flat. Stanley?s Mom hurried to get the bulletin board off him. Stanley?s brother, Arthur, was jealous. Stanley went to visit his friend in California mailed in an envelope. Stanley caught the thieves at the museum. Stanley got an award. He even got his picture in the newspaper. Arthur had to pump Stanley up with bicycle pump.
I liked the story because it was funny. When Stanley was inside the envelope he had to take along a sandwich to eat on the way. My favorite part was when Stanley dressed up like a girl. He didn't want to do it. He looked silly with that curly wig and dress on. I liked the characters Stanley and Arthur because they are brothers. Sometimes they didn't get along in the story and that's how real brothers are.
I think everyone should read this book because it?s funny and it makes you laugh. I think seven year olds and up would like this book.