Mallory on the Move
Written by Laurie Friedman
Illustrated by Tamara Schmitz
Reviewed by Sadaf E. (age 8)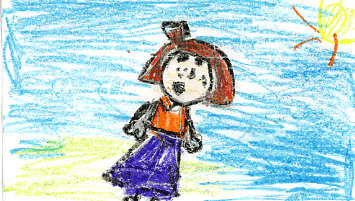 Mallory was moving so she was sad. Her friend Mary Ann arranged a "good-bye" party. They had a lot of fun. Mallory and her friend Pinky swore not to make a friendship with a boy. After she moved to a new house Mallory made a wish to find a friend by throwing stones into the wish pond. Mallory became friends with the boy next door. One day Mary Ann came to visit Mallory and Mallory told her about her new friend. They made a plan that Mallory would hide in a box and go home with Mary Ann. Mary Ann's mom found out and called Mallory's parents. Mallory felt miserable when she had to return home.. Then she went to the wish pond and threw her wish pebble. After that Mallory felt better.
My favorite part of this story is when Mallory was telling jokes because it was funny. My favorite character is Mallory because she's kind. My least favorite character is Max because he's mean to Mallory. This story relates to my life because when I moved from my previous house I felt so lonely. I like the pictures in this story because I can see their faces and I can better understand the story.
I think others should read this story because they could learn how to adjust to a new situation.