Mouse Went Out To Get A Snack
Written by Lyn Rossiter
Illustrated by Jim Mc Farland
Reviewed by Noah S. (age 6)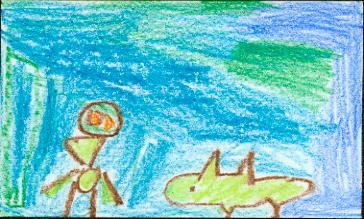 This book is about a mouse who wants a snack. In the kitchen he climbs up the leg of a table and on top discovers a feast for a king. He fills and fills his plate with chicken, tacos, chocolate cake and more. He even gets a piece of cheese. Meanwhile, a big orange cat finds him. The mouse thinks he can escape with all that food, as he dashes for his mouse hole. Uh oh! It is too big! Now we have a big mess.
My favorite part in this book is when the cat goes flat from all the food landing on him. He looks so silly. This is a good book because it helps me with counting. All the food looks delicious in the illustrations too.
I recommend this book to kindergarten and first grade for fun reading. You can also use it to practice counting. I think people would like this book because the mouse gets away,and it has a happy ending.