I know an Old Lady
Written by Brian Karas
Illustrated by Brian Karas
Reviewed by Savannah I. (age 6)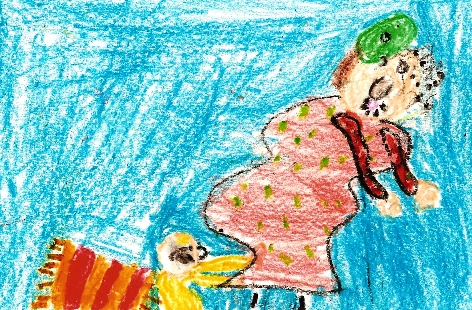 I Know an Old Lady Who Swallowed a Pie is such a neat story. The old lady swallows a pie and then she swallows some cider because the pie was too dry. Then it says that it rumbled and mumbled and grumbled inside her. She keeps on swallowing things to go with the other things she ate. Every page she keeps getting fatter and fatter.
This story was really fun to listen to because there were lots of rhyming words and you could try and guess what the rhyming word would be to go with what the old lady swallowed like when she swallowed the turkey it said her future was murky to rhyme with turkey. Also when our teacher read the story we could sing the parts that were the same on each page like the part that said, "That rumbled and mumbled and grumbled inside her". The pictures really helped you to see how fat the lady was getting.
This story is such a good story for anyone especially at Thanksgiving because the old lady is swallowing all the things for a Thanksgiving dinner.