I Want to Be A Pilot
Written by Teddy Slater
Reviewed by J.L. (age 9)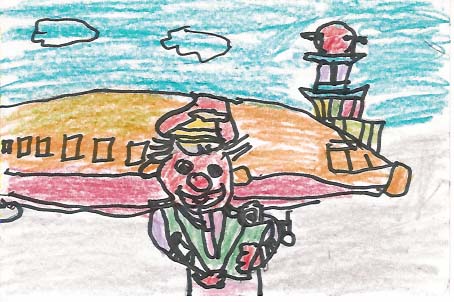 I Want To Be A Pilot, by Teddy Slater, is a great book. In the story, Bert got a letter from his cousin Bertha. Bertha invites Bert and Ernie to visit. They have to take an the airplane to get to there. Bert is scared of flying. Ernie talks to Bert about airplanes. Ernie got a book to read about airplanes. Will Bert and Ernie ever get to California to visit Bertha?
My favorite part was when Ernie pretended he was a pilot. He pretended he was driving a plane and skywriting. He pretended that Bert was in there too. I liked it because it was funny. He wasn't really a pilot. The pictures from this part were colorful and showed what he was imagining. I think that other kids would also like this part.
I liked the illustrations. One reason is because they helped me understand the story. When I didn't understand a sentence, I looked at the pictures to know what the author meant. Also, they were colorful. The illustrator used all sorts of different colors to make the pictures. The illustrations made me want to read this book again.
My favorite character was Ernie. I like him because he is imaginative. He imagined that he was a pilot, but he wasn't. He is a good friend. He listened to his friend Bert when he said to be quiet. The last reason is that he is just like me. I have a messy room, and he does too. My room is in the same room as my mom and dad, and his is in the same room as his friend Bert. Ernie is a lot of fun. I recommend this book to all the children around the world because it is easy to read. If you read this book you can learn more about airplanes. You can learn about all the things that are in the airplanes. If you like airplanes, you should read this book.