Sheltie Goes to School
Written by Peter Clover
Illustrated by Tristan Ewell
Reviewed by Jasmine S. (age 8)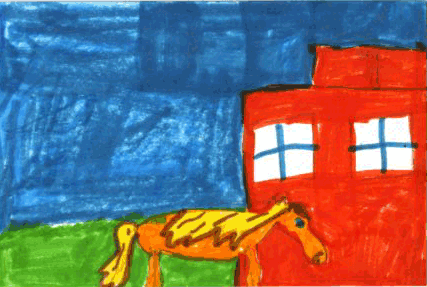 Do you like mystery books? If you do, you will love this book about Emma and her pony, Sheltie, trying to find what is in the grumpy janitor's shed. The janitor keeps people out of his shed and is mean at the beginning.
I liked this book because I like mysteries. My favorite characters are Sheltie the pony, and Emma the girl. Emma reminds me of myself because we both love ponies. Sheltie is so silly! I like the part when she picks up a doll. I love these pictures. They have texture which shows every little detail including the wind.
I felt so worried when I was reading this book, and you will see why. I recommend this book to ages six through ten. Will Emma and Sheltie ever find out who is locked up in the shed? Read Sheltie Goes to School and you'll find out. Are you going on a long trip this summer? If you are, then grab this book for your backpack.