Sheltie Saves The Day
Written by Peter Clover
Reviewed by S.L. (age 9)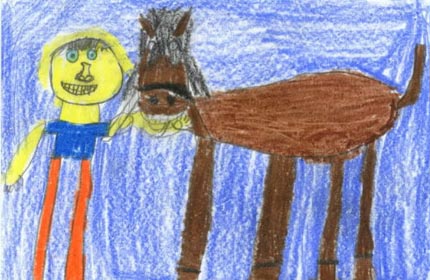 Sheltie Saves the Day! by Peter Clover is an excellent book. Emma's favorite place to go was Horseshoe Pond so that she would be able to ride Sheltie. One day Emma overheard that they were going to close Horseshoe Pond. She got really upset because if they closed Horseshoe Pond she would not be able to see Sheltie any more. One night Sheltie saw two men outside on the sidewalk and one of the guys were holding a stick, the other guy were shining a light at the ground . They were trying to steal someone's treasure. The thieves tied up Emma and Mr. Crock. Emma called for help hoping Sheltie would hear her. Sheltie came and tried to help. Can Sheltie help them? Will the thieves get away with the treasure?
This book is a very interesting book to read. It had very thoughtful and helpful characters. One time Sheltie helped Emma and Mr. Crock out of a sticky situation. Also, it had very detailed pictures because it showed what they were saying. Last, it was interesting because every time there was a problem they would always have a good solution. Sheltie saves the day! is a very fascinating book because it had very thoughtful and helpful characters, detailed pictures, and every time there was a problem they thought of a good solution.
I recommend this book to people who like to read interesting stories. You never will guess what happens at the end of the book. The author makes you think it will end one way but it doesn't. If you like reading books that surprise you, this is the book for you!