Arthur Goes to School
Written by Marc Brown
Reviewed by Madalyn C. (age 10)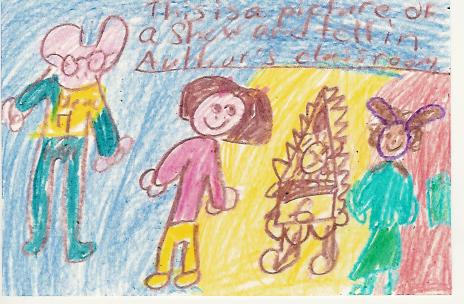 Arthur had a hard day in the morning because he couldn?t find his things like clothes, shoes, socks, and take care of his dog, too. That?s hard work! Once he came to school, Arthur had show and tell in class and people in his class had to bring something to share with the whole class. Arthur showed the class a blue ball. Arthur has a favorite book called The Three Little Pigs that he shared with the class during storytime. He says it is funny and very interesting too. The class plays choice time and eats crackers. On the way home, Arthur and his friend Francine play a game of the alphabet.
The book is interesting because Arthur talks about his whole day in school. This book is very funny because Arthur and his friend play a game called Alphabet. I like the illustrations from the book because they?re really descriptive and draw about the day. Part of the illustrations are flaps that you can peek under to see more pictures in the story. The flaps are very fun to look through because they describe the illustrations. They are useful to the reader because you can learn information about Arthur?s day from looking under them. You can find things that Arthur is looking for under the flaps!
I recommend this book to my mom because it is very interesting and I think I learned a lot from the book. I learned that Arthur can take care of his dog and his school work at the same time. I would recommend this book to younger kids if they needed help learning to read, because the flaps would be helpful teaching them how to read, because they help match words to pictures. I also recommend this book to people or kids that want a pet to take care of like Arthur.