Trapped in Death Cave
Written by Bill Wallace
Reviewed by C.J. H. (age 11)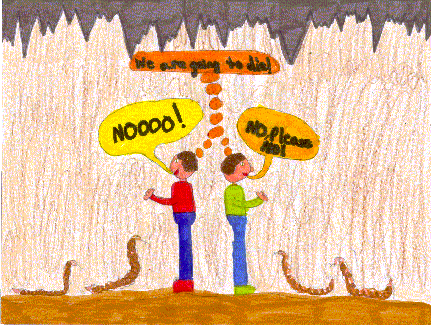 Trapped in Death Cave is about a boy named Brian who at the beginning looks for his friend Gary. When Brian finally finds Gary he says that his grandpa had been murdered. But the investigators say that he died in a fishing accident. Gary says that he didn't because that wasn?t the way that he puts his fishing gear. The two boys go to Mrs. Becker?s place and get threatened with an axe to get off of her property. The boys get into a fight and roll on the ground and fall into the sewer and smell really bad. They go home and get grounded and have to stay at Gary?s house while their parents go to a movie. Find out what Gary and Brian do next. Check it out at your nearest library.
I think the book is really interesting and adventurous and I loved it because I think the characters really speak to you. My favorite part is when Gary and Brian were fighting and fell into the sewer because it is the funniest part in the book. There was a character that changed. His name was Odie Ralston. He acted like the boys? friend, then he tries to kill them. It is not like other books by Bill Wallace, because it is about a treasure, and the other books he has written are pretty much like every day life.
I absolutely recommend this book, because it is adventurous and thrilling. The part that will interest readers is at the end when Odie kidnaps Gary and takes him to a cave. The readers who would like this book probably like action books with a lot of humor.