Lord Brocktree
Written by Brian Jacques
Illustrated by Troy Howell
Reviewed by Gavin H. (age 11)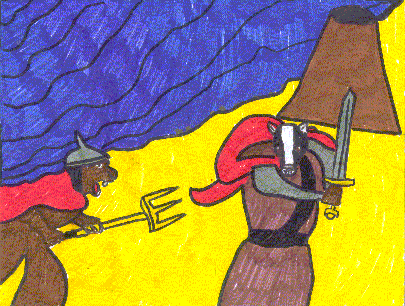 In Lord Brocktree you?re put into an animals' medieval world. Lord Brocktree a future badger lord on a quest to find the badger mountain of Salamandastron. Accompanied by the young hare, Dotti, they start their long and perilous journey. At the same time the old badger, Lord Stonepaw, is having his own problems. Ungatt Trunn, the evil wildcat, has come with his vast Hordes of blue vermin. Unfortunately the hares of Salamandastron are only some very old warriors; also the once mighty Stonepaw is far past his prime. They are in dire need of help to fight the vermin. In a last ditch effort, Stonepaw sends out a lone hare in search of an army. Once the hare meets Brocktree they go on a search for the local king, Big Bucko, the wild march hare, and his large court of loyal fighters. Once they get the army formed they go to Salamandastron. To find out what happens you have to read the book. The lesson is that good always triumphs.
I liked this book a lot because it?s filled with action, suspense, and it?s funny. My favorite part is when the final battle between Lord Brocktree and Ungatt Trunn. It?s so cool how the author describes it. I thought Dotti was an interesting character. She was funny and she always seems to be talking about food! This book is one of the best in the medieval series of Redwall. This is like the others book because there is a lot of war.
I recommend this book because it?s a good book in the series, and it?s funny, and action packed at the same time. This book is good for ages 10 to 13. This book is interesting because the way the author writes it. It feels like you?re in the ranks fighting with them.