The Call of the Wild
Written by Jack London
Reviewed by Meghan F. (age 12)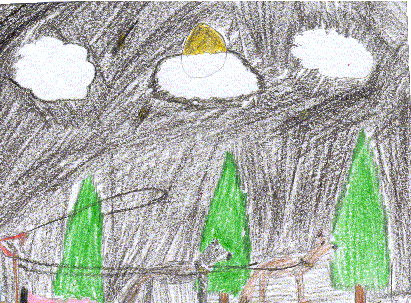 This book is about a dog who is taken from his nice, warm home in California to harsh, cold Alaska. Before being bought, Buck (the dog) was beaten many times a day, but when he was bought, the other dogs picked on him. As he got along he fit in just fine with a few fights. Before the end of the book he had three different owners, and ended up loving the third. I think that if you like animals or interesting books you should read this book.
I think this book is one of the best books ever. I liked it because it is about animals. I also liked it because it always looked like a great book. My favorite part was when was when Buck first saw snow. It was my favorite part because in the book it was so funny. I think that Buck changed because he had became wiser and the leader of his pack. This isn't like any book I have ever read because I have never read a book that good. The author uses very descriptive words to describe the wilderness in the book.
I recommend this book because I thought that it was a great adventure book and it is very exciting. I think that an animal or action reader would love this book. I think that the part of this story that might interest the readers most is when Buck is going through all the different owners.