Scooby-Doo and the Trick-or-Treat Thief
Written by Jesse Leon McCann
Illustrated by Duendes del Sur
Reviewed by Orion H. (age 8)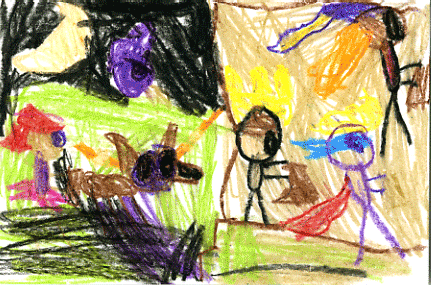 On Halloween Scooby, Shaggy, Fred, Daphne, and Velma were going to find a trick-or-treat thief. First, several minutes passed and no trick-or- treaters were there. They looked outside and there were still no trick-or-treaters. Next, they saw a treehouse with lights. Kids were inside and they told them a thief took their candy. Last, they set trap and caught the thief.
My favorite part of the story was when Shaggy and Scooby found candy and couldn't stop staring at it. That was funny. Scooby-Doo is my favorite character becasue he is funny. This story relates to me because I stare at candy, too. The pictures in the story help show how scared Shaggy and Scooby were.
I think people should read this story because it's really funny and and it makes you laugh.