Flat Stanley
Written by Jeff Brown
Illustrated by Steve Bjorkman
Reviewed by Rakahn H. (age 7)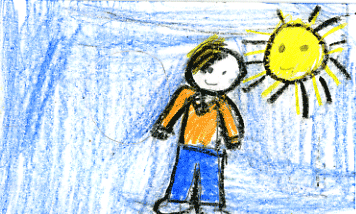 One morning Arthur calls his parents to come upstairs to see Stanley. When they came over they saw the bullletin board had fallen on Stanley. Now Stanley was flat. One day Mrs. Lambchop and Stanley wre walking Mrs. Lambchop's ring fell in a hole. But Stanley went down into the hole and got the ring back. The robbers robbed a museum and they were about to take the world's greatest painting, but Stanley saved the day. Stanley was the best person ever. People did not like him anymore. Arthur had a great idea by pumping Stanley, and Stanley was not flat anymore.
My favorite part of the story is when Stanley was flat because he looked funny. Stanley is my favorite character. He may be flat, but he is a hero to me. This story cannot happen because no human can be flat like Stanley. The pictures help tell the story.
I think others should read this story because it is very interesting. There are a lot of adventures they will like.