The Adventures of Spiderman
Written by David Koepp
Illustrated by Zade Rosenthal
Reviewed by Brady B. (age 11)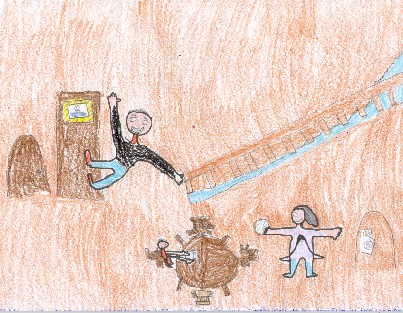 Peter Parker was an ordinary high school kid, until they went on a field trip to Columbia University in Manhattan. When he was there, a radioactive spider bit him. He later found out about his powers and he protected the city of Manhattan. However, a new foe appeared. He calls himself the Green Goblin. Can Spider-Man keep Manhattan safe? Or will Green Goblin squash him like a bug?
Some characters did remind me of someone I know: Spider-Man, Green Goblin, and Mary Jane because Aaron is like Spider-Man, Taylor is like Mary Jane, and Heath is like Green Goblin. My favorite parts are when Jamison always yells at Peter when Peter is trying his best to impress him. Green Goblin was an interesting character because I liked all that technology that he had. I think this book is really good because of the descriptions and the wording.
I would recommend this book because it has really good details and more information than in the other books. People that like superheroes, action, and adventure would really like this book. The action, adventure, and the explosions really got me hooked to it. It could possibly get you hooked also.